---
Institutional Devotions
DEVOTION #1: "They've Taken Away My Identity!"
John 13:23 – One of them, the disciple whom Jesus loved, was reclining next to him.
Jesus nicknamed John the apostle, along with his brother James, "Sons of Thunder," and for good reason. John was a hard-living commercial fisherman who was used to expressing himself by his actions. If he was angry, he acted out his anger. If he wanted something, he went after it. Sometimes he didn't much care who got hurt when he wanted to express himself.
Later on in John's life he stopped using the ways he'd always used to express himself. He retired from the fishing business, so he couldn't define himself by that activity any more. When he served a prison sentence because of his Christianity, he lost the freedom to do most of the things that had formerly defined who he was. And John lived into his 90s, when old age robbed him of the ability to do what he'd done as a young tough guy. He could have felt robbed of his identity.
But John's identity had been changed already. John had come to know Jesus and had been touched by the love of Jesus. And the Holy Spirit had moved John to think of himself in a new way: not as the man who does this, that and the other thing, but as "the disciple whom Jesus loved."
Prayer: Lord Jesus, your love for me can never be taken away. Let me find my true identity in your love. Amen.
Additional Thoughts for Meditation:
John 15:9 – [Jesus said,] "As the Father has loved me, so have I loved you. Now remain in my love."
See also: Psalm 46; Psalm 71; John 10:27-30
---
DEVOTION #2: "I Feel So Alone"
John 19:28 – Jesus said, "I am thirsty."
A crowd had gathered to watch the controversial teacher Jesus be slowly and painfully executed on a cross. Some people had been drawn by curiosity or meanness. But other people had been drawn by the fact that Jesus' love had touched their hearts. They knew he was more than a controversial teacher; they knew he was their Savior.
Jesus' mother Mary was one of those people. John the apostle was another, along with Mary Magdalene and several others. As they watched Jesus die, they were watching all their guilt being taken care of, completely. They were watching everything that would have kept them from God's loving presence being erased as Jesus suffered to take away our sins.
That's not all they saw as they watched Jesus that Friday. They not only saw Jesus die; they saw him suffer. They saw him betrayed, abandoned, humiliated and tortured. And they saw him get very thirsty. Think of it: technically, all Jesus would have had to do to save us was to die. But Jesus experienced all those other painful things, too, before he died.
Mary, John, and the others would never forget what they saw before Jesus died. They saw Jesus sharing in their pain. No matter what kind of pain they'd experience from then on – humiliation, abandonment, being victims of violence and abuse, or just plain thirst – Jesus had let them know they'd never have to experience it alone. He'd be their partner in pain.
Prayer: Holy Spirit, open my eyes and heart to see Jesus hurting along with me. Amen.
Additional Thoughts for Meditation:
Hebrews 2:18 – Because he himself suffered when he was tempted, he is able to help those who are being tempted.
See also: Hebrews 4:14-16; Psalm 22.
---
DEVOTION #3: "I Don't Feel Like I Deserve God's Help"
Luke 5:8,10 – When Simon Peter saw this, he fell at Jesus' knees and said, "Go away from me, Lord: I am a sinful man!"…Then Jesus said to Simon, "Don't be afraid…"
Peter didn't have too many illusions about himself, at least as far as his moral character was concerned. He didn't see himself as a basically good guy who got somewhat messed up by his upbringing or his society; he saw himself as a sinner. So he figured he was pretty much on his own in life. He didn't expect God to get involved in his life, because he assumed God stayed away from sinners. And he didn't particularly want God to get involved in his life anyway, because he reasoned that if holy God got too close to a sinner like Peter, Peter would be in real trouble.
And then all of a sudden Peter found himself in a close encounter with God. While he was in his fishing boat with his new friend Jesus, he saw Jesus perform a miracle right before his eyes. Jesus caused a huge school of fish to suddenly appear in Peter's nets.
All Peter felt at first was shame. He wanted to push Jesus and his kindness away. Shame had been keeping Peter from seeking God's loving presence, and now shame was about to separate Peter from God's loving presence: "Go away from me, Lord; I am a sinful man!"
Jesus brought Peter into a new understanding of what it means to come into the presence of God. As Peter got to know Jesus, he came to trust in him as the God who was there to love and forgive and bless him, to remove shame and fear.
Prayer: Jesus, don't let me ever place shame between myself and you, since you've taken away my shame by your death on the cross. Move me by the power of the Holy Spirit to seek and enjoy your loving presence. Amen.
Additional Thoughts for Meditation:
Psalm 103:11-12 – For as high as the heavens are above the earth, so great is his love for those who fear him; as far as the east is from the west, so far has he removed our transgressions from us.
See also: Isaiah 6:5-6; John 3:17; Romans 4:4-8; Romans 5:1-8
---
DEVOTION #4: "Will I Ever See Anything Good in Life Again?"
Luke 2:28-30 – Simeon took him in his arms and praised God, saying, "Sovereign Lord, as you have promised, you now dismiss your servant in peace. For my eyes have seen your salvation…"
Simeon and Anna were a couple of people who could have been spending their time longing for the past and resenting the present. They were both getting old; they'd outlived a lot of their family and friends; they weren't able to do the things they used to do. It would probably have been easy for them to get bitter or depressed. They might have chosen to live in the past, as if the only good things that were ever going to happen to them had already happened, as if nothing good could happen now in their present situation.
But Simeon and Anna didn't believe that their lives had become pointless. The Holy Spirit had convinced them that they were going to see God's plan unfold for them right in the situation they were in. They believed that God was going to meet with them and show his love for them in a special way in their present circumstances. Anna spent her time in intimate prayer with God. And Simeon looked forward to the fulfillment of a personal promise from the Holy Spirit that he would live to see the Messiah come.
Then one day at the Temple in Jerusalem Anna and Simeon met with God in a very special way. They got to hold him in their arms. Joseph and Mary brought the newborn Savior, Jesus, to them there.
Prayer: Holy Spirit, move me to believe that God is going to be present for me in a special, personal and loving way right here in the circumstances I'm in. Amen.
Additional Thoughts for Meditation:
Lamentations 3:22-23 – Because of the LORD's great love we are not consumed, for his compassions never fail. They are new every morning; great is your faithfulness.
See also: Isaiah 43; Psalm 118
---
DEVOTION #5: "I Don't See God Doing Anything"
Matthew 8:7-8 – Jesus said to him, "I will go and heal him." The centurion replied, "Lord, I do not deserve to have you come under my roof. But just say the word, and my servant will be healed."
The Roman army officer had a problem that needed immediate attention and visible action. A member of his staff – actually, more than a staff member; he had become the officer's trusted friend – was dying. He'd heard about Jesus and his ability to heal. He'd watched and listened to Jesus. And now that he had this problem, he went to Jesus for help.
He went to him, first of all, because he'd been convinced that Jesus cared about him and his problems. This soldier lived in a hard and often cruel world, and the caring love of Jesus drew him like a light in the dark.
He'd been convinced of something else, too: Jesus' absolute authority. This officer was part of the well-disciplined Roman army, and he knew that if he was given a command, he would obey, just as any command he himself issued would be obeyed. The Holy Spirit had brought him now to believe that Jesus' authority was infinitely greater than any military authority. If Jesus took over the responsibility for any problem, it would be taken care of.
So he turned the responsibility for his staff member's future to Jesus. He didn't see what Jesus was doing with his problem, and he didn't feel the need to see. He trusted his senses, but he trusted Jesus even more.
Prayer: Holy Spirit, keep giving me the peace that comes from being convinced that Jesus is already doing something great and wonderful with all the problems I've turned over to him. Amen.
Additional Thoughts for Meditation:
Psalm 6:7-9 – My eyes grow weak with sorrow; they fail because of all my foes. Away from me, all you who do evil, for the Lord has heard my weeping. The Lord has heard my cry for mercy; the Lord accepts my prayer.
See also: Hebrews 11:1; John 20:29; 2 Corinthians 5:7; 2 Timothy 1:12; 1 Peter 1:3-12
---
DEVOTION #6: "Why Me?"
John 21:21-22 – When Peter saw him, he asked, "Lord, what about him?" Jesus answered, "If I want him to remain alive until I return, what is that to you? You must follow me."
Peter had seen Jesus give him lots of personal attention. Jesus had given him the nickname "Peter" (Greek for "Rock") in the first place. He'd made Peter part of the inner circle of the apostles, along with James and John. He'd invited Peter to walk on water along with him. He'd made special efforts to call Peter back to a life of repentance when Peter had disowned Jesus the night before the crucifixion. And he made a special appearance to Peter when he rose from the dead.
But Peter had some misgivings about the individualized attention he was getting from Jesus now. Jesus was telling him how Peter was going to die. And it was going to be violent and brutal.
Peter's first reaction was to notice his fellow apostle John a little ways away, and to shift his attention to him. "Lord, what about him?" Peter wanted to know if he was going to be the only one to experience pain and violence.
Jesus' answer led Peter to a new level of their relationship. Peter came to believe that God's plan for him was completely unique and custom made for him. Instead of being obsessed with trying to find out why God would allow people's lives to be so different from each other, he started simply trusting God's wise and loving plan for his own life.
Prayer: Holy Spirit, move me away from comparing my fate to that of others, and move me into a life of trust in my Father's special love for me. Amen.
Additional Thoughts for Meditation:
Jeremiah 29:11 – "For I know the plans I have for you," declares the LORD, "plans to prosper you and not to harm you, plans to give you hope and a future."
See also: 1 Corinthians 10:13; Romans 8:18-39
---
DEVOTION #7: "I Can't Question God, Can I?"
John 11:32 – When Mary reached the place where Jesus was and saw him, she fell at his feet and said, "Lord, if you had been here, my brother would not have died."
Mary and her sister Martha were grieving, confused, hurt and angry. Their brother Lazarus had died four days earlier, which was why they were grieving. The confusion, hurt and anger were the result of something else. When the two sisters had realized how sick their brother was, they'd sent word to Jesus to come and help them; but Jesus didn't come right away. And while they were waiting for him, their brother died.
Mary and Martha could have pretended they weren't really feeling the way they were feeling. They could have thought, "We don't want to get on the wrong side of Jesus. We'll let him think we don't doubt him or question him in any way."
But that wasn't the truth. The truth was that they were unhappy about how Jesus had treated them, and they were filled with questions and doubts. There was another factor, though, in their relationship to Jesus: trust. The time they'd spent with Jesus had brought them to the belief that they could be completely honest with Jesus about how they really felt, and he'd still love and accept them.
And their trust wasn't misplaced. Instead of rejecting them for expressing their disappointment with him, Jesus gave them one of the greatest promises in the Bible: "I am the resurrection and the life. He who believes in me will live, even though he dies: and whoever lives and believes in me will never die" (John 11:25-26).
Prayer: Lord Jesus, I entrust the real me, with my doubts and feelings of disappointment, to your never-failing love. Amen.
Additional Thoughts for Meditation:
Psalm 142:2 – I pour out my complaint before him; before him I tell my trouble.
See also: Psalm 13
---
DEVOTION #8: "All I Want Is to Get Out of Here!"
Luke 17:19 – Then [Jesus] said to him, "Rise and go; your faith has made you well."
The man was living in exile and isolation. His family and his whole community had distanced themselves from him because they were afraid of the contagious, incurable disease he'd acquired. Now he and nine other men with the same disease lived in a camp together, sharing the same loneliness and dismal future.
He and the others started hearing rumors from the few people who had anything to do with them, rumors about a man named Jesus who was supposed to be able to heal. The ten of them decided that if they ever got the chance, they'd ask this Jesus for help.
Then one day they got their chance. Jesus and his followers were passing through their area. The man and his associates called out from a distance, "Jesus, Master, have pity on us!" and before they knew it they were healed.
They were overwhelmed with relief and joy. The isolation was over! They could dare to have hope for their future again! The man and his nine partners charged off to be reunited with their families and homes.
But something stopped the man in his tracks. Somebody had valued him enough to give him this healing, and he realized that his new relationship with this somebody, Jesus, was an even greater gift than the healing itself. So he postponed the reunion with his family to go back and be with Jesus.
Jesus told him, "Your faith has made you well." Jesus' action of healing had cured the man of his disease, but it was the Holy Spirit's gift of a faith relationship with Jesus that cured the man of a lonely, self-centered life.
Prayer:Jesus, keep changing my heart so that I value you, the Giver, more than the gifts you give. Amen.
Additional Thoughts for Meditation:
John 17:3 – "Now this is eternal life: that they may know you, the only true God, and Jesus Christ, whom you have sent."
See also: Luke 10:38-42; Philippians 3:7-10; Philippians 4:11-13
---
DEVOTION #9: "My Life Is Being Completely Disrupted!"
Philippians 3:7-8 – But whatever was to my profit I now consider loss for the sake of Christ. What is more, I consider everything a loss compared to the surpassing greatness of knowing Christ Jesus my Lord, for whose sake I have lost all things.
Saul of Tarsus was very satisfied with the direction his life was going. People in his religious community respected him as a teacher and as a leader, and his prestige and power were growing rapidly. And he was very satisfied with his religious beliefs and his understanding of the purpose of life. He'd come to the conclusion that the purpose of life is to learn all the religious knowledge you can and to try your hardest to obey all the laws of God. If you succeeded in those things, you'd be saved.
Living by that belief seemed to make for a very good life for Saul. The last thing in the world he thought he needed was something to come along and shake up his beliefs and disrupt his life.
But that's what happened. On the road to Damascus Saul had a startling supernatural encounter with Jesus that left Saul temporarily blinded and permanently shaken to the core of his being. He had always written off Jesus as a false teacher whom the world was better off without. Now he was forced to look at everything differently. He realized that Jesus was his Lord and Savior, and that he, Saul, was basically a mean-spirited, self-seeking sinner who desperately needed Jesus.
Saul's life was completely and permanently disrupted. But the Holy Spirit moved him to see that as a blessing. As he came to know and trust Jesus, he became willing to be completely remade. And to commemorate this complete disruption, he started calling himself by a new name: Paul, the apostle.
Prayer: Holy Spirit, use the disruptions in my life to bring about necessary changes in my mind and heart. Bring me into a closer, more trusting and more joy-filled relationship with Jesus. Amen.
Additional Thoughts for Meditation:
1 Peter 1:6-7 – "… now for a little while you may have had to suffer grief in all kinds of trials. These have come so that your faith — of greater worth than gold, which perishes even though refined by fire — may be proved genuine and may result in praise, glory and honor when Jesus Christ is revealed."
See also: Acts 22:1-16; Jeremiah 9:23-24; Matthew 19:16-30
Recommended Posts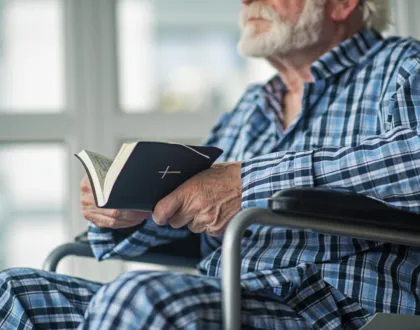 March 11, 2021
September 18, 2020
September 18, 2020